Hit item ranking 2016 in Japan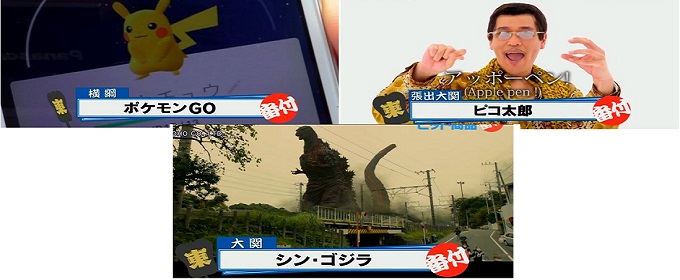 What item is most hot in 2016!?
"The hot sellers in second half of 2016" are announced by Nikkei Marketing Journal which is Japanese trade paper. This paper selects hot sellers based on not only sales but development process and influence of society.
"Pokemon Go" is selected as Yokozuna of east, "PPAP" and "Shin Godzilla" are selected as Ozeki.
"Shin Godzilla" is big hit movie in 2016, and is produced by Toho and directed by Hideaki Anno konwn for Neon Genesis Evangelion. This movie is nominated the-keywords-of-the-year.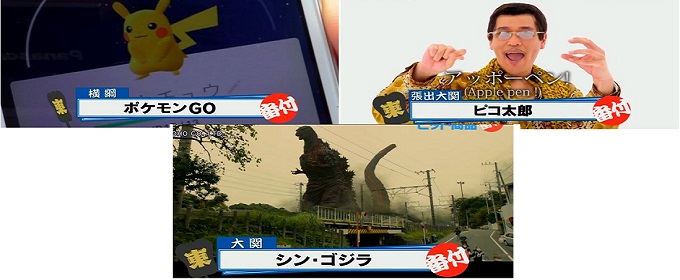 "Serena" manufactured by Nissan Motor Company is selected as Sekiwake. The price of this car is about two million yen(about $17,000) though it has automatic operation which is only used on highway.
"Shohei Otani" Japanese baseball player is selected as Komusubi. His team Nippon-Ham Fighters won Pacific League Chanmpionship in 2016 by his pitching and batting.

"Your name" which is hit movie is selected as Yokozuna of west, "Rio Oympics(Rio 2016)" and "AI" are selected as Ozeki.
"PSVR" manufactured by Sony Corporation is selected as Sekiwake. Its official name is PlayStation VR, and is a home video game with virtual reality head-mounted display.
"Hiroshima" one of prefectures in Japan is selected as Komusubi. Baseball team Hiroshima Toyo Carp won Central League Championship, citizens of Hiroshima excited it for the first time in thirty two years.
What item will be hit in 2017?