Market share of instant noodle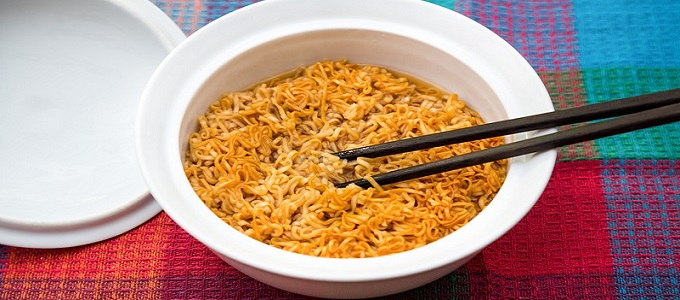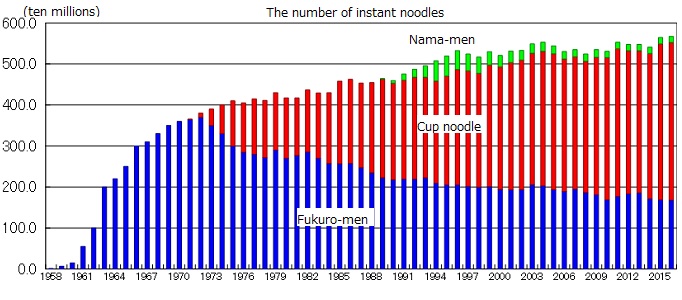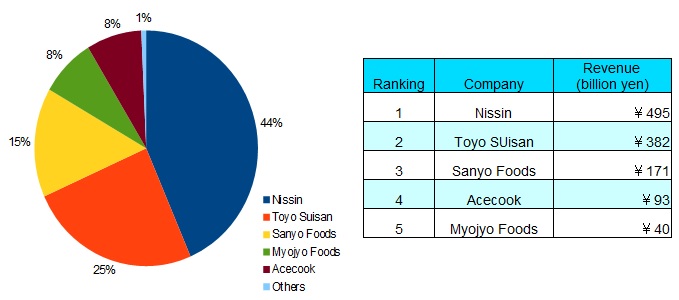 Big 5 companies occupy instant noodle market!
The sales of instant noodle sold in a soft plastic packaging is recovering in Japan.
Nissin has the top share of instant noodles in Japan.
Toyo Suisan is leading in the oversea.
The market size of instant noodle in Japan is 500 billion yen(about 500 million dollars) according to the report of World Instant Noodles Association in 2016. The market size of Fukuro-men which is sold in a soft plastic packaging is about 130 billion yen and it of cup noodles is about 400 billion yen. The sales of instant noodle increased slightly at the from the previous year.
In general, a demand of instant noodle should decrease because Japan becomes aging society, but demand of it is increasing year by year. Because many Japanese think instant noodle is not only light meal but also preservative food since they experienced an earthquake in 2011.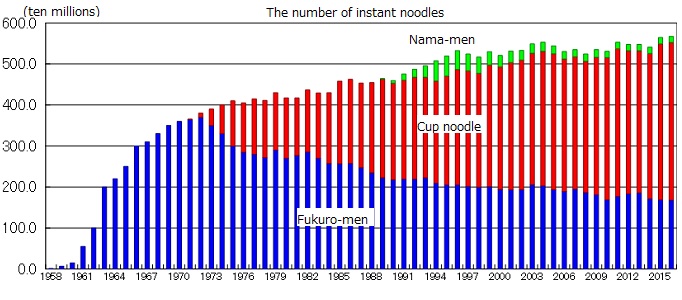 Instant noodle were born in Japan, the first instant noodle is "Chicken Ramen" made by Nissin Food Products Co. in 1958. It is also the first Fukuromen, and is very popular even now. After that, "Cup Noodles" made by Nissin was born in 1971. It was hit because it can be cooked without a bowl. It is more popular than Chicken Ramen now, sales of it is bigger. New Cup Noodles flavors becomes the topic every year.
The market of Fukuromen shrinked long time since Cup Noodles was hit. However, Maruchan-Seimen made by Toyo Suisan Kaisha, Ltd. woke this market up. Its noodle is very similar to a noodle of Ramen shop by Namamen Umaimama Seiho which is patented method to dry raw noodles with keeping taste. The hit of Maruchan-Seimen is called Maruchan's Shock in this industry.
About the instant noodles market share in Japan, the five companies occupy this market, Nissin, Toyo Suisan, Sanyo Foods, Myojo Foods and Acecook. The five companies account for 99% of this market. Nissin which has a first-mover advantage accounts for 50% of this market. Recently, Cup Noodles Light and Cup Noodles Nice which are low in calories are big hits for not only a man who is on a diet but also women.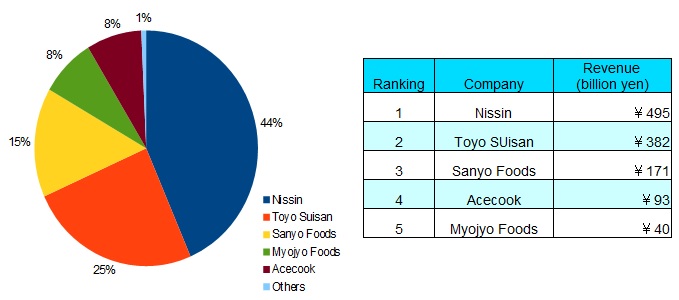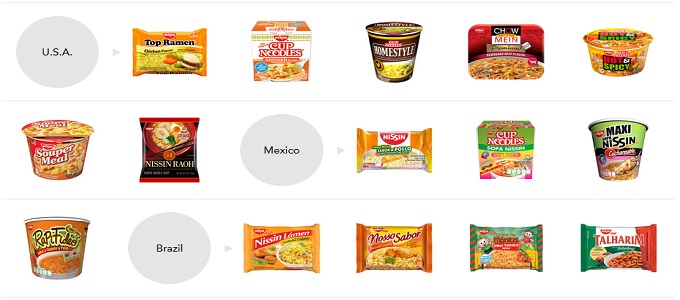 Nissin has other hit products, such as UFO, Donbe, and Raoh. UFO is a instant fried noodles called Yakisoba flavored worcestershire sauce. Donbe is a instant Udon(thick wheat flour noodle) with a soup made of Dashi and soy sauce and more. Raoh is the first high quality instant noodle in Japan.
Toyo Suisan has the second market share. Its top-sellers are Maruchan-Seimen, Akai-kitsune and Midorino-Tanuki. Akai-Kitsune which means a red fox in English is sold in 1975 as the first instant Udon. It topped with deep-fried bean curd called Abura-age. Udon topped with Abura-age is called Kitsune-Udon in Japan because it is believed that a fox like an abura-age.
Midorino-Tanuki which means a green raccoon dog is an instant Soba. Soba is made by buckwheat flour. Midorino-tanuki is topped with deep-fried vegetables and seafood called Kakiage(one of the Tempura cuisine). Sanyo foods has the third share, its top-seller is Sapporo Ichiban. Sanyo foods formed business tie-up with Acecook which has the fifth share.
By the way, the market size of instant noodle in the world is about ten trillion yen(about ten billion dollars). Nissin is behind the other companies though it has the top share in Japan. Toyo Suisan accounts for 70% of instant noodle market in the USA, 90% of the market in Mexico. The share of overseas net sales in Acecook's total net sales is at approximately 50%. If one speaks of instant noodle in the oversea, it is a Fukuromen.
Nissin and Toyo Suisan are listed on the Tokyo Stock Exchange. Foreign investors can invest in Toyo Suisan on NYSE by ADR(American Depositary Receipt). In addition, they can do it through many ETFs, MAXIS Nikkei 225 ETF(NKY), iShares MSCI Japan ETF(EWJ), Wisdomtree Japan Hedged ETF(DXJ) and more.