TOYOTA MOTOR CORPORATION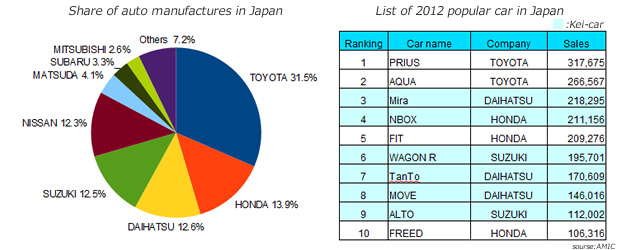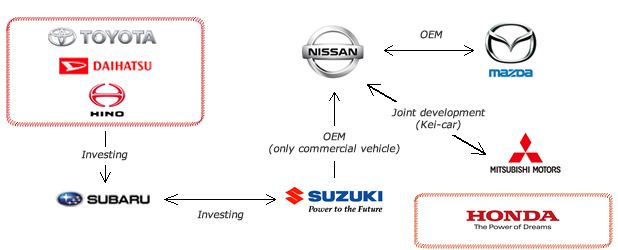 Weak yen and FCV is important for profits!
Toyota Motor Inc(NASDAQ:TM, TYO:7203) is the largest export company in Japan and is the one of the Japanese big three(Toyota, Honda, Nissan). lt has many subsidiary companies, Toyota Boshoku(TYO:3116) makes car interiors, Hino Motors(TYO:7205) makes trucks, Daihatsu Motor(TYO:7262) makes Kei-cars and more. In addition, it's the major stockholder of Subaru(Fuji Heavy Industries, TYO:7270) which sells Legacy, Impreza, WRX in the world.
lt used to be reputed as the company had high sales ability though its development capabilities fell behind Honda's one. Nowadays this repute is extinct and its development capabilities overtake Honda's one. Especially, TOYOTA has a lead over the rest of the world in technology of hybrid cars. It gave licensing of technology of hybrid cars to BMW in 2012, and the total sales of PRIUS(the world's top selling hybrid car) is about 3 million in the world in 2013.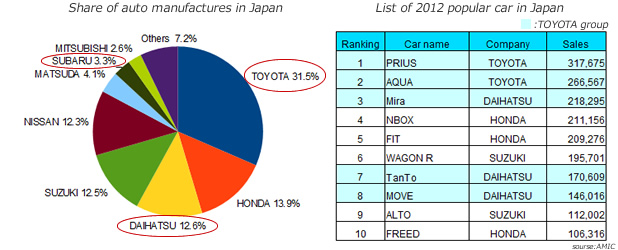 Toyota, Daihastu and Subaru account for about 45% of car sales in Japan. Toyota's PRIUS and AQUA hybrid cars is place in the top and second in list of 2012 popular car in Japan.Toyota's position is steady, but its assignment is developing superior them.
On the other hand, Toyota is known as the company whose ratio of car sales in foreign is high. Its overseas production ratio of first half(April-September) in 2013 was about 51%, but ratio of car sales in foreign coutries was 73.4%: car sales in USA and Canada was about 1.3 million, in Europe was about 0.4 million, in asia was about 0.8 million, in other area(Africa and Latin America) was about 0.9 million.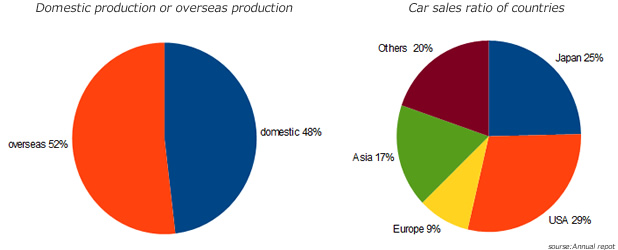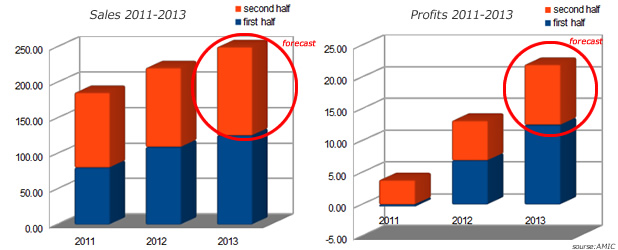 Toyota's sales of first half(April-September) in 2013 was twelve trillion and 537 billion yen(about 125.3 billion dollars), and rose 14.9% from the year-earlier levels. The primary factor of that was weakness of yen because the number of car sales in first half is 4.46 million, it fell 1.1% from the year-earlier levels. Decreasing car sales in Japan and Asia influenced that though car sales of other area increased: it in USA and Canada rose 3.0%, in Africa and Latin America rose 8.7%. Indeed, the total number of car sales for a half year in Japan fell 5% from the year-earlier levels because of ending scrappage progaram. However, it in October 2013 rose 17.3%, it in November rose 16.1%. The reason of this is last minute surge in demand before increasing value added tax in April 2014, and this trend will probably continue until March. Therefore, there is some possibility of increasing its sales of 3Q(September-December) and 4Q(December-March) and exceeding its forecast of sales(about 250.0 billion dollars).
Its current profits of first half in 2013 was one trillion and 255 billion yen (about 12.5 billion dollars) and rose 81.0% from the year-earlier levels. The primary factor of incrasing that was not only the cost improvement activity but weakness of yen against dollar. The former is 140 billion yen and the latter is 540 billion yen. There is some possibility of exceeding its forecast of profits(about 22.0 billion dollars) because of weak yen. However, rate of increasing its profits will be fall considering weak yen trend in 2014 may be slow comparing in 2013. Although rate of that wil be fall, its profits will increase steadily. Weakness of yen will support its profits though its profits of Japan will decrease because of reaction to last minute surge in demand in spring 2014.
BOJ's quantitative easing is important for continuing weak yen and increasing its profits. In addition, the project of FCV (Fuel Cell Vehicle) is also important for increasing sales and profits from a long-term perspective. A few analysts worry omen of car's commoditization, for example, car price has been falling little by little in the world since Tata Motors sold cars whose price was about two thousand dollars in 2009. In addition, electrical appliances were mainly commoditization and being price competition when the number of them reached one hundred million. Some analysts says the number of car sales in the world will reach one hundered million in 2017 or 2018. Toyota's profits would be sluggish in spite of weak yen if it exposed price war. Therefore, it's worthy of note whether Toyota will be able to occur paradigm shift like Hybrid car or not.
TOYOTA is listed in Tokyo Stock Exchange and NYSE(TYO:7203, NASDAQ:TM), and it's Nikkei225(N225) index company. You can invest it by way of some ETFs.