Tokio Marine Holdings Inc.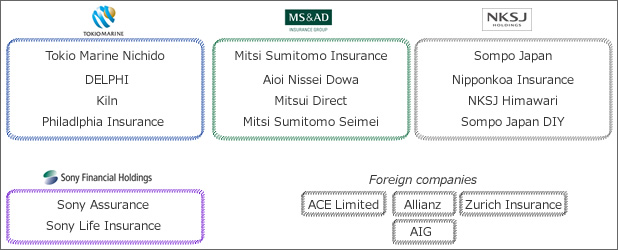 M&A puch up Tokio Marine's profits!
Tokio Marine Holdings Inc(NASDAQ:TKOMF, TYO:8766) is the one of the top three general insurance companies(San-Mega-Sompo) in Japan. Its center firm is Tokio Marine Nichido which is the first general insurance company in Japan. It also has life insurance companies(Anshin-Simei, Financial Seimei) as subsidiary. In addition, it got Kiln(insurance company in UK) in 2007, Philadelphia Insurance in 2008, Delphi Financial Group in 2011 by M&A. Though the subsidiaries as above contribute increasing its revenue, it's trying hard to increase revenue in Japan. Some of its efforts are selling a new type of casualty and surety insurance and developing iphone and android apps(モバイルエージェント,mobile agent) tell it of location of accident by GPS and photograph.

The ratio of its line of business of first half(April-September) in 2013 is as follow: car insurance is 39.0%, fire insurance(homeowner insurance) is 17.0%, marine and casualty and surety insurance is 14.8%, compulsory insurance is 9.4%, others is 19.9%. This ratio is mostly the same as market of general insurance in Japan and as last year. In addition, the ratio of foreign revenue to total revenue as follow: 78% is in Japan, 22% is in foreign countries. This ratio is low though Tokio Marine takes an active interest in M&A because the insurance market in Japan coverage about 15% of the insurance market in the world. There's room for improvement to increase its revenues and profits.
Tokio Marine's revenue of first half(April-September) in 2013 was two trillion and 6.4 billion yen (about 20.64 billion dollars), and rose 20.3% from the year-earlier levels. The primary factor of that was revenue of delfi is increasing and raising car insurance premium rate of Japan in 2013. The number of car accidents by older drivers is increasing in Japan, accordingly an amount of insurance general insurance companies paid is increasing.
Its current profits of first half in 2013 was 148 billion yen (about 1.5 billion dollars) and rose 79.3% from the year-earlier levels. The primary factor of that was not only the above raising car insurance premium but increasing profits of foreign subsidiaries because of weakness of yen. In addition, stock market(Nikkei) boost by Abenomics was added on its profits.

Tokio Marine's profits forecast is 285 billion yen, the net income is 185 billion yen in the full year ended March 2014. If stock market(Nikkei) moved up steadily from now on and large scale natural disaster(big typhoons or earthaquake like Tohoku earthquake and tsunami in 2011) didn't occur, its forecast would prove true. Though typhoons usually hit Japan in summer(indeed the five typhoons was coming from June to September in 2013), Tokio Marine paid insurance for disaster fall about 30% from the year-earlier levels. Therefore, there is some possibility of proving its forecast true. In addition, it will pay an increased dividend, marking its third consecutive increase.