MS&AD Insurance Group Inc.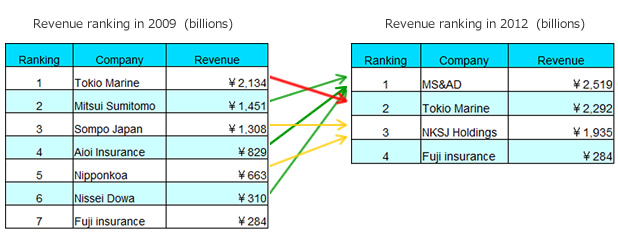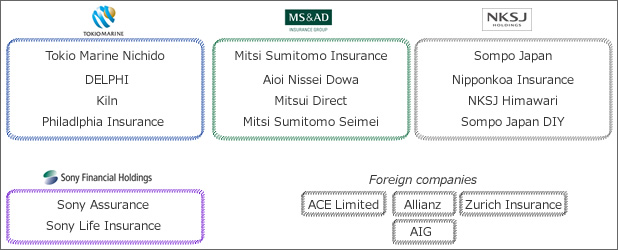 MS&AD is one of the top three gi companies!
MS&AD Insurance Group Inc(TYO:8725) is the one of the top three general insurance companies(San-Mega-Sompo) in Japan. It was founded in 2010 by consolidation of three companies, Mitsui Sumitomo Insurance Group, Aioi Insurance and Nissei dowa insurance. Then, the three compmaies struggled to catch up Tokio Marine(top general insurance company in Japan), but revenue of car insurance and homeowner's insurance decreased because of falling sales of new cars and homes owing to severe recession in 2009. In addition, their financial performance deteriorated on account of subprime mortgage crisis and bankruptcy of Lehman Brothers. Therefore, they thought it's difficulat for catch up Tokio Marine for by oneself, and decided consolidation. By the way, NKSJ Holdings was founded by consolidation of Nipponkoa insurance and Sompo Japan was fomed after a short time.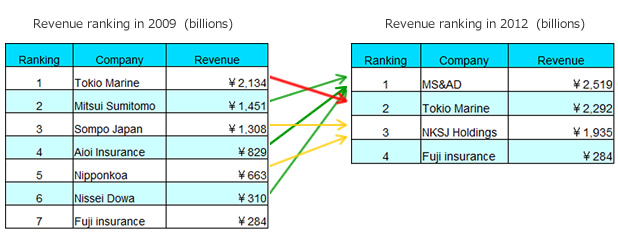 TOYOTA is the largest stockholder of MS&AD and has 8.3% of the total number of its stocks. The reason of this is TOYOTA invested in stocks of Aioi insurance before consolidation. Therefore MS&AD saled its car insurance on car dealership of TOYOTA and develop original car insurance for TOYOTA. Lexus owner's insurance plan(Lexus is luxury vehicle) coverages not only normal bodily injury and bodily injury liability but offer same Lexus when the one is destroied by car accident. If the sales of lexus increases in Japan, revenue of MS&AD will increse too.
MS&AD's revenue of first half(April-September) in 2013 was two trillion and 71 billion yen (about 20.71 billion dollars), and rose 3.3% from the year-earlier levels. The primary factor of that was not earning insurance premium but investment income, if anything, earning insurance premium decreased from the year-earlier levels. Its achievement isn't admired because revenue of Tokio Marine mainly incresed by insurance premium.
Its current profits of of first half in 2013 was 163 billion yen (about 1.6 billion dollars) and rose 243% from the year-earlier levels. However, its achievement isn't admired because of above the reason too. It's doubtful whether MS&AD will similarly achieve the same ratio of good result for the next year.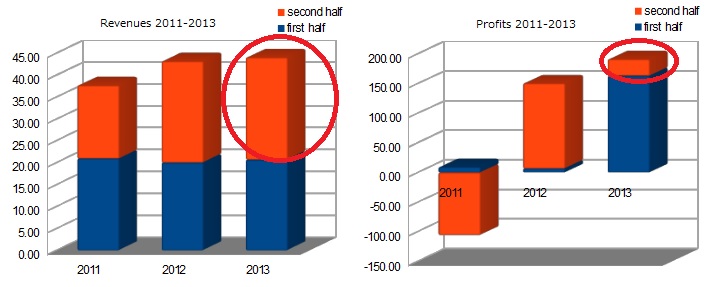 MS&AD's profits forecast is 191 billion yen, the net income is 125 billion yen in the full year ended March 2014. Though its profits in first half was 163 billion yen, its forecast in second half is 28 billions. This forecast is too cautious about second half, but it may be a proper forecast because investment income occupy the profits of first half. MS&AD's profits forecast is depressing after 2013 as far as its revenue of general insurance increase.
However, as mentioned at the beginning, it's not long since MS&AD was founded, and it was pressed for response to Tohoku earthquake and tsunami in 2011. Synergetic effect by consolidation will be from now on. Indeed, MS&AD proceeds system integration, sharing insurance agent and marketing channels. On the completion of this reorganization in Japan, it may start earnest expansion oversea.Toshiaki Egashira CEO of MS&AD spoke "I consider good proposals of M&A positively, especially with asian company" in interview of Sankei News Paper in 2013. MS&AD is expected to get good results next several years rather than immediate profit.