Market share of General Insurance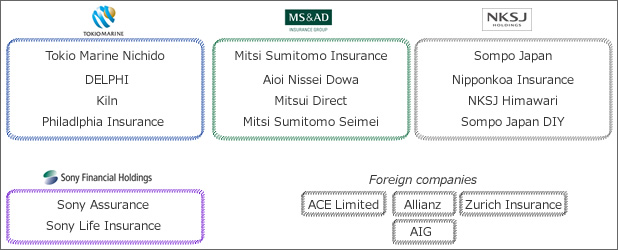 M&A and cross ownership of equity is key issue!
The market size of general insurance in Japan is the third rank in the world, after the USA and Germany. Indeed, three companies(Tokio Marine Holdings, MS&AD Insurance and NKSJ Holdings) place in the top 10 general insurance companies by revenue in the world. Each company revenue is more than thirty billion dollars for a year. They're called top three of general insurance companies(San-Mega-Sompo).

However, the market of it is dacaying little by little every year because of not only an aging population and a low birth rate but indifference of the young toward cars and going for a drive. Especially, the percentage of the young in urban area(Tokyo, Osaka, Nagoya) don't have a car is about 75% according to the consumer behavior survey by Cabinet Office. There're several reasons for it, one of them is trains and subway in Tokyo are excellent punctual to a minute and come every a few minutes. In addition to this, chronic horrible traffic jam and too expensive parking fee(700 dollars in a month on average in Tokyo) are considered as the reasons.
Car insurance accounts for 44% of the market of general insurance in Japan as well as in U.S.A. Of course, three companies account for about 90% of its market, but they can't be optimistic because of not only the above reasons but direct insurer. Though direct insurer hold big share in U.S.A, direct insurer in Japan hold below 10% share of the market. Sony Financial Holdings Inc at the head of them are grabbing share from three companies little by little. However, its revenue for a year is about eight hundred million dollars, so it won't be able to catch up three companies for several years. Furthermore, they set up subsidiary companies for direct insurer to recapture.

They will maintain the share of the domestic market from now on, and they should expand abroad to increase revenue. They make full use of M&A for time savings at that time. Indeed, Tokio Marine Holdings acquired Philadelphia Consolidated Inc with 5 billion dollars in 2008 and Delphi Financial Group with 2 billon dollars in 2011. MS&AD and NKSJ lag behind Tokio Marine in M&A because of taking time for forming mergers with domestic companies and system integration. However, the two companies will initiate it presently, Toshiaki Egashira CEO of MS&AD spoke "I consider good proposals of M&A positively, especially with asian company" in interview of Sankei News Paper in 2013. If the yen continue to be weaker than now, M&A boost up their revenue and profit more than expected.
The cross ownership of equity is also key issue of their profit. To begin with, it started from 1960 to hold stable stockholder and mortgage for long-term business with customers. Especially, general insurance companies have equity of various companies more than other industry. For example, Tokio Marine Holdings has equity of 61 companies according to its reports of possession of large volume. Therefore, their earnings deteriorate under the influence of the unrealized losses when the stock market(Nikkei 225) and their equity hanging low. They dissolved cross ownership little by little since Japanese asset price bubble(economic bubble from 1986 to 1991), and sold some equity in Abenomics 2013. Any equity they didn't sell change unrealized profits from unrealized losses.
Finally, revenue and profit of general insurance company depend on M&A and stock market from now on. Of course, large scale natural disaster like Tohoku earthquake and tsunami in 2011 is their risk factor of deteriorating earnings. In addtion, disaster occured in the country acquired company is in bussiness except Japan is another new risk. If you'd like to invest general insurance company, it may be sufficient you buy stock of above three company(Tokio Marine Holdings, MS&AD Insurance and NKSJ Holdings). Tokio Marine Holdings is also listed in NASDAQ, its ticker symbol is TKOMF. In that case, you can avoid exchange risk.