Market share and trend of car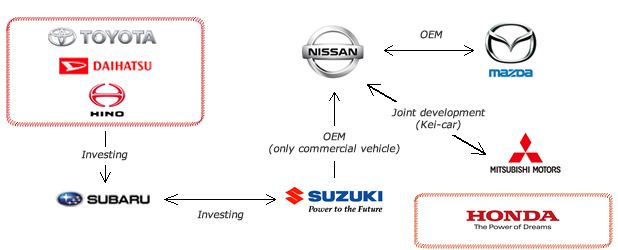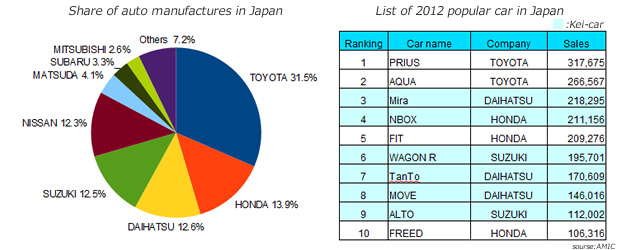 Reaction of last minute surge and weak yen is key issue!
The market size of cars in Japan is the third rank in the world, but there is a great gap between the two companies, China and USA, and Japan. Automobile manufacturers in Japan mainly sell cars in foreign comapanies. Four companies(TOYOTA, Nissan, HONDA, SUZUKI) place in the top 10 automobile manufacturers by the car sales in the world.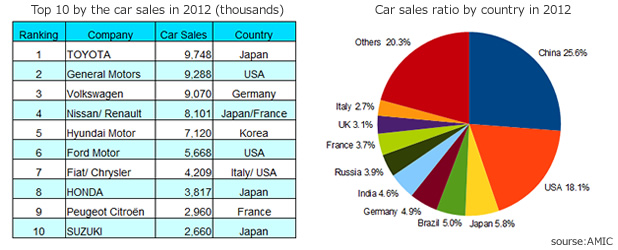 The four companies expanded abroad not only in order to increase sales and profits but the car sales in Japan decreased little by little. However, TOYOTA the largest export company in Japan sells cars in Japan which is 25% of the total sales though the market size of cars in Japan is about 6% in the world. It means this market is still important for them to sell cars. Especially, in the case of TOYOTA, it basically manufactures 3 million cars in Japan, and sells them to domestic and foreign customers half and half. TOYOTA is considerate toward domestic employment and companies.
The four campanies account for about 60% of car sales in Japan. TOYOTA account for about 30% place in the top sales, and Nissan, Honda, Daihatsu and Suzuki follow TOYOTA. Daihatsu TOYOTA's subsidiary company and Suzuki mainly sells Kei-car which is Japanese small vehicles rules below 660cc. It's very popular nowadays because of not only low price but low tax and economical gas money. Indeed, the six Kei-cars place in the lsit of popular cars though hybrid cars, PRIUS and AQUA, place the first and second. Japanese government adopt increasing taxes on it since 2015, but Kei-car will be popular after increasing taxes because the tax on it is cheaper than on normal cars.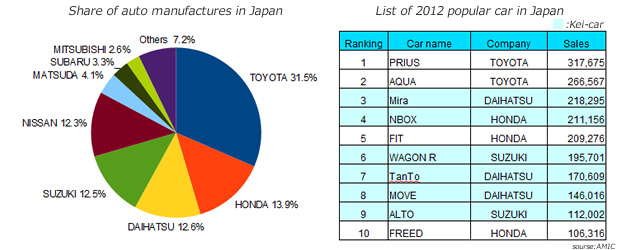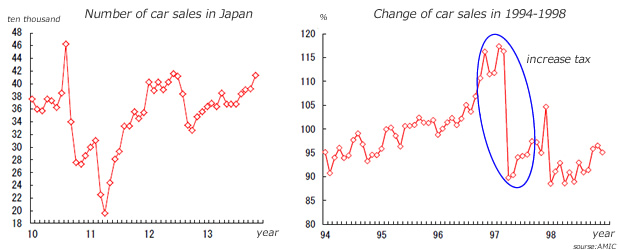 Now, the number of car sales is increasing steadily since winter 2012 because of strong economy by Abenomics though scrappage progaram ended in spring 2012. Auto manufactureres forecast last minute surge in demand before increasing value added tax in spring 2014, on the other hand, they concern decreasing car sales after that. When value added tax was raised in 1997, the number of car sales decreased more than 10% compared with 1996. However, the number of car sales recovered after half a year in 1997. It in 2014 will recover faster than in 1997 because of hopeful prospect of economic recovery and next raising value added tax in 2015. The true crucial moment of auto manufactureres is 2015 considering that. In addition, 2015 is the target year Haruhiko Kuroda Governor of the Bank of Japan aims to grow out of deflation by targeting inflation.
Meanwhile, ratio of auto manufacturer's car cales in foreign countries is about 70% of the total car sales. Economic trend of foreign countries in 2014, especially USA and China whose car market is big, will influence sales of them. In addition, exchange rate influence sales of them. Subaru(Fuji Heavy Industries) whose ratio of car sales in USA is high will increase about 63 million dollars as profits when a one yen depreciation against the US dollar. All of auto manufacturerers will post their highest profits ever if the yen fall to 110 or 120 to the dollar.
If you'd like to invest auto manufacturerers in Japan, you may consider buying stock of Japanese big three(TOYOTA, HONDA and Nissan). There is room for buying stock of Matsuda whose ratio of car sales in Europe is high and Subaru. They're listed in Tokyo Stock Exchange, and TOYOTA and HONDA is also listed in NYSE. Their ticker symbols are TM and HMC.