The history and unknown story of Cup Noodles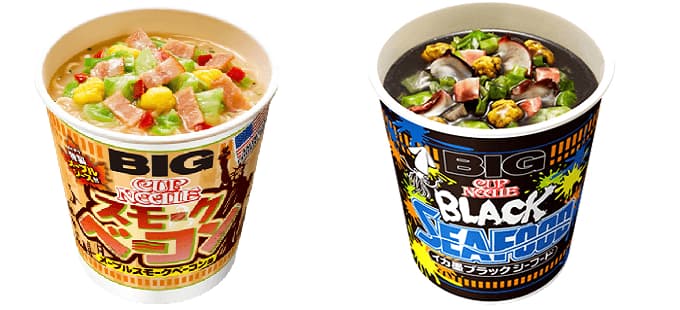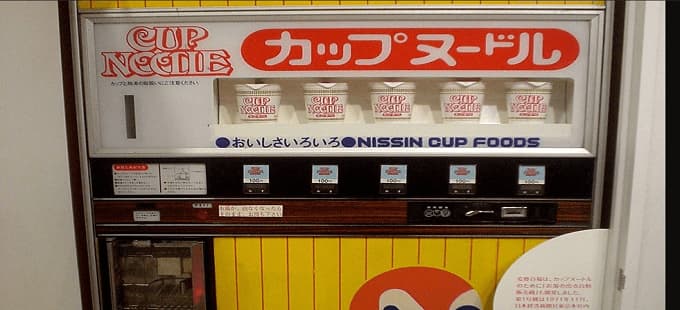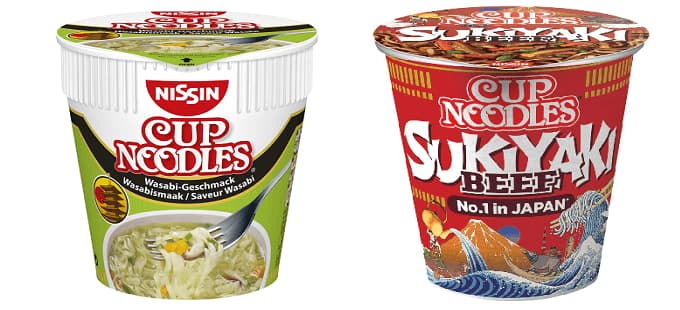 Do you know the story behind the development of Cup Noodles?
Cup Noodles was invented in 1971 by Momofuku Ando.
It changed flavors in each country.
Many new flavors were released to overcome original flavor in Japan.
Cup Noodles is the first cup instant ramen(noodles) made by Nissin which is a Japanese food company. It has various flavors derived from diversification of food, but all of them can be eaten by hot water and three minutes. The total number of sales of it has reached 45 billion cups until 2020.
Cup Noodles was invented in 1971 by Momofuku Ando who was the founder of Nissin. Before he invented it, he went to U.S.A to sell Chicken Ramen (Top Ramen) in grocery stores. Chicken Ramen was a great hit in Japan, he thought it would be also a great hit in U.S.A soon. However, the customer's response was not as good as he thought. The reason of that was eating habits differ from country to country. Japanese people ate it with rice bowl and chopsticks, but they were not popular in U.S.A. Momofuku Ando began to invent a new instant noodle which can be eaten without them.
The first prototype product was Cup Chicken (Chicken Ramen with rice bowl) made with Styrofoam. This Ramen was sold in a trial, but it was stopped because its cup was not good shape and expensive. Momofuku Ando decided to invent a totally new instant noodle in 1969. At first, he made about 40 prototypes cups to find the best cup he thought. He thought the best cup was anyone could grasp it with one hand. He found the best shape is cup shape which is bigger than paper cup. However, it was very difficult to make this cup with Styrofoam because of lack of technology. He consulted Tokan Kogyo which was a paper and plastic products manufacturer, and knew PSP (polystyrene paper). He succeeded to make the thin and heat-insulation cup with it. By the way, cups are made with paper and biomass-based plastic for customer's health and SDGs nowadays.
Though the cup was completed, noodles could not be just in the cup. If noodles were not the same size as the cup, noodles can easily move and break in the cup. Momofuku Ando solved this problem with noodles bigger than the bottom of the cup. Noodles kept the middle of the cup, and this method is called middle retention. The flavor of soup was based on soy sauce at first. However, he changed soup to be based on consommé (chicken bouillon). He thought chicken tastes was more popular than soy sauce taste in the world. Other problems, how to fill the cup, freeze-dry shrimp and meat (dice meat), were solved by his ideas and effort of staffs.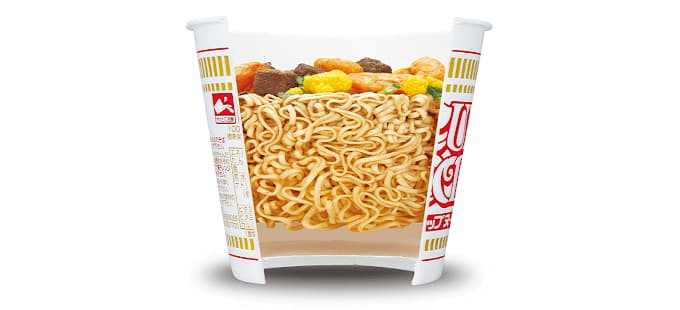 There were some candidates for the new instant noodles' name, he decided the name "Cup Noodles". This name was suggested by subsidiary of Nissin in U.S.A and advertising agency. The cup design was designed by Takeshi Otaka who made the symbol of World's fair (International Exhibition) in Japan. Thus, Cup Noodles started at Japan in 1971.
However, Cup Noodles was not in stores at first because its price was four times more expensive than other instant noodles. In addition, some Japanese thought it was bad manners to eat it with standing. Momofuku Ando thought to expand new sales channels and to do new sales promotion. One of new sales channels was vending machines. This vending machine could not only sell Cup Noodles but also provide hot water. He set 20 thousand vending machines for year. The new sales promotion was a tasting event in pedestrian zones of Ginza. Cup Noodles became popular among young people who did not mind manners. It also became popular among most Japanese people after that.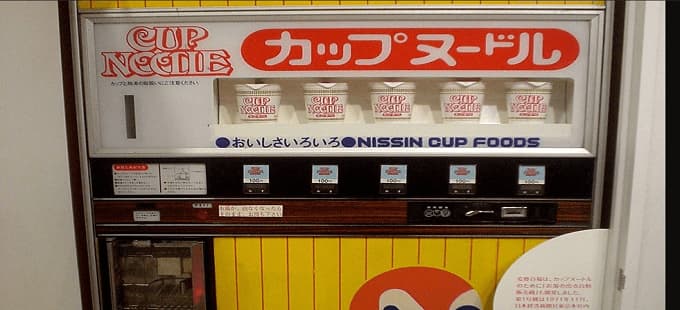 In 1973, Cup Noodles expanded to the U.S as Cup O'Noodles. There were three flavors at first, shrimp, beef, and oriental. Three flavors, chicken, beef and onion and vegetables, were added on lineup. Cup Noodles did not expand to the U.S without Japanese taste because Momofuku Ando thought it should change flavors in each country for hit. In addition, he asked to place it at soup section of many grocery stores because soup market was growing rapidly then. Therefore, Cup Noodles was regarded as noodle soup even now.
Cup Noodles also expanded to the other countries after U.S. It expanded to Brazil in 1983, Hong Kong in 1986, India in 1991, Singapore in 1992, EU in 1993, Thailand in 1994, Indonesia in 1995, Philippines in 1996, Mexico in 2000 and more. It changed flavors in each country for hit like U.S. It is said that there are over one hundred flavors of Cup Noodles in the world.
In the U.S, most popular flavors of Cup Noodles are chicken, beef and shrimp. Very Veggie series are also popular among health-conscious people recently. It has much vegetables with chicken or beef flavor. In addition, sweet chili or spicy chili flavor is becoming popular among not only Hispanic American but also American.
In the EU, Cup Noodles is sold in Germany, France, Spain, Netherlands, Swiss and more. Most popular flavor is chicken, but various Japanese flavors are also popular because of Japanese food boom. For example, Wasabi flavor based on Japanese style soup was spicy by Wasabi (Japanese horseradish). Teriyaki chicken flavor (sweetened soy sauce) and Sukiyaki beef flavor are also popular.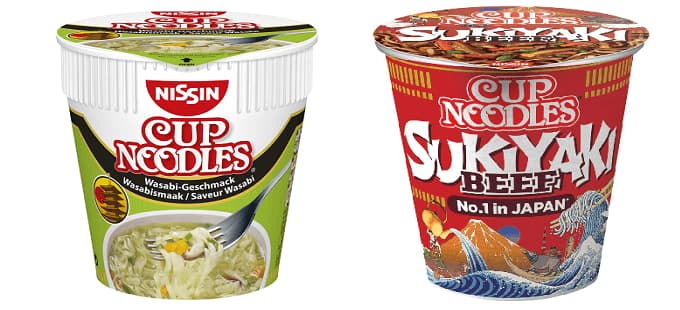 In Brazil, Cup Noodles is becoming popular in the Southern States and some cities. Most popular flavor is Galinha Caipira which means Jidori in Japanese, Free-Range chicken or Homebred chicken in English. Galinha Caipira flavor is based on salty taste made with Jidori. Its taste is relatively closer in taste to Brazilian stews and boiled home cooking.
In Asia, the most popular flavor of Cup Noodles is based on seafood, but other flavors are popular in several countries. Mazedaar Masala flavor based on mix spices called Masala is very popular in India. It is a veggie food because 20% or 30% of Indian are vegetarians. There are other flavors for not vegetarian like Spicy Chicken, Seafood, RoganJosh and more. About 5 billion cups eaten in India for a year. The most popular flavor in Indonesia is also not seafood but chicken because most Indonesian are Muslim.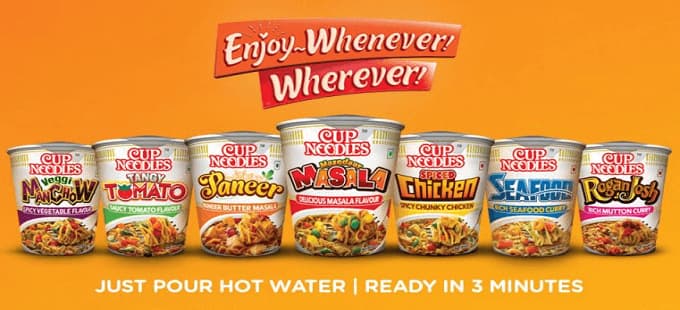 In addition, there are various flavors based on national dishes. Sotangn hon and Batchoy flavors are based on Filipino cuisine. Sotangn hon is fried noodles with soy-sauce. Batchoy is noodle soup flavored with pork or beef. Tom yum (Tom yum goong) and Moo Manao are based on Thai cuisine. Tom yum is hot and sour soup with spices and herbs. Moo Manao is a spicy lime salad with pork.
In Japan, the best three flavors are original flavor, seafood and curry in the sales ranking of Cup Noodles. Original flavor is the top since its release. Many new flavors were released to overcome three flavors. However, some of them were unusual.
Matcha (green tea) flavor was released in 2017. It has green noodles made with Matcha and seafood soup. Cephalopod ink (Squid ink) flavor was released in the same year. It was unappetizing because it had black seafood soup. Softshell turtle flavor had a unique taste. Softshell turtle soup is one of the high-class dishes in Japan, but it disappeared soon. Maple syrup and smoke bacon flavor was derived from the U.S. Maple syrup and smoke bacon are delicious, but they did not suit soup and noodles. It also disappeared soon.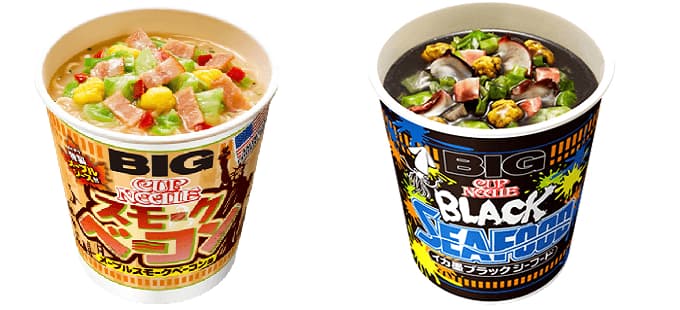 On the other hand, some fans of Cup Noodles add a few extra ingredients, lemon, sesame, milk and cheese, fried chicken, Natto (fermented soybeans) and more. The official web site of Cup Noodles also suggests adding something and cooking other dishes with it.
You should go to Cup Noodles Museum in Osaka and Yokohama if you know more about Cup Noodles. You can also create your own original Cup Noodles My Cup Noodles Factory of this museum. If you like Cup Noodles and Nissin, you can invest it. Nissin is listed in Tokyo Stock Exchange (TYO:2897), and is included some ETFs for investing Japanese companies.