Market share of department sotre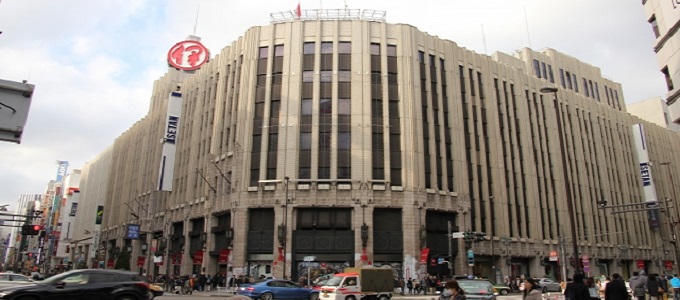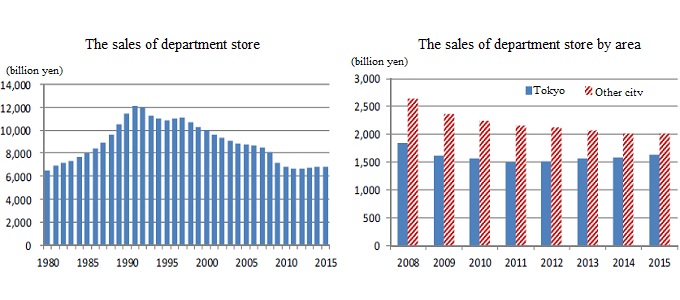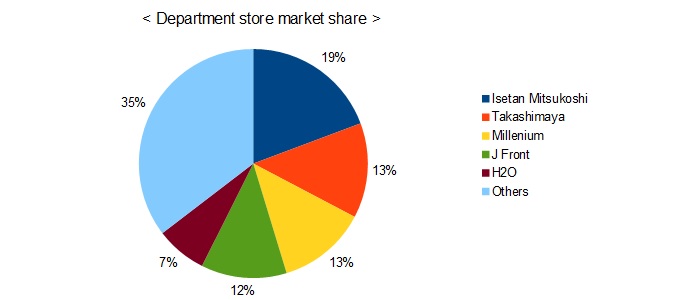 Japanese department store market is shrinking, but!?
The market size of department store in Japan is about six trillion yen(about 60 billion dollars).
Isetan Mitsukoshi Holdings has the top share of this market.
Japanese department stores failed in overseas business, but expands overseas again in recent years.
The market size of department store in Japan is about six trillion yen(about 60 billion dollars) according to the report of Japan Department Store Association in 2017. It was 0.1% increase from the previous year. The sales of tax-free goods reached record high depending on foreign visitors. Especially, cosmetics are very popular for them. On the other hand, the sales of clothes is 2.8% decrease from the previous year. Japanese department stores enjoy the demand of foreign visitors, but local department stores do not enjoy that.
The market of department store in Japan trends to shrinks for a long time. The sales of it was at the record high level in 1991, reached about ten trillion yen. It was said that a department store sold everything people used from crade to grave. This markt start to shrink since collapse of the bubble economy. Department stores narrowed down line of goods since then.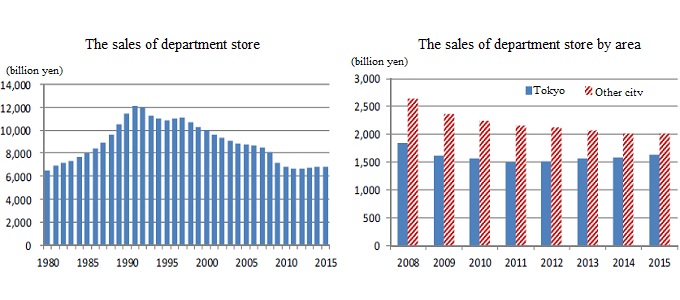 In addition, the sales of department stores decreased because of financial crisis in 2007-2008. Many department store companies closed own unprifitable stores and promoted early retirement and restructuring. They continued to slump because young people buy something in shopping mall or specialty shops like Uniqlo and Nitori instead of department store.
However, the sales of department stores in 2012 and 2013 increased from the previous year since Japanese economic recovered. In addition, the demand ahead of the consumption tax hike pushed up this sales in 2013. This sales of 2014 also incerased from the previous year. The number of foreign visitors is increasing rapidly from 2014, and their shopping supports the sales of department stores now.
In the future, the sales of depatment stores will decrease slightly because of aging society though foreign visitors' shopping will support it. The demand of rental and reuse will also push down it. Especially, the sales of cloths will more decrease than other sales. It is said that about ten department stores will close until 2022, and the sales of department stores will decrease at 110 billion yen.
There was progress in the restructuring of department stores from 2000s. Department stores felt a sense of crisis under some of them went bankrupt. Seibu and Sogo merged to form Millenium Retailing, Daimaru and Matsuzakya merged to form J.FRONT RETAILING in 2007, Hankyu and Hanshin merged to form H2O Retailing in 2007. Finally, Mitsukoshi and Isetan merged to form Isetan Mitsukoshi Holdings in 2008. Nowadays, Takashimaya is the only company which do not experience M&A.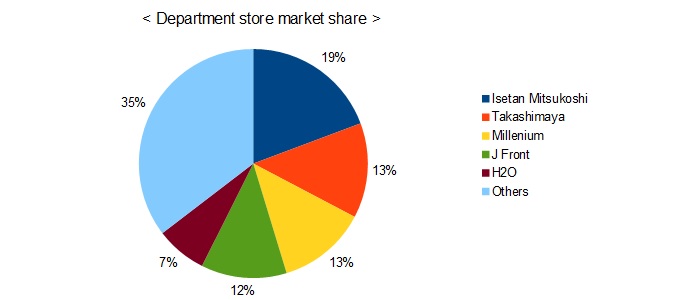 Isetan Mitsukoshi Holdings has the top share of this market among them. Takashimaya has the second share, Millenium Retailing has the third share, J.FRONT RETAILING has the fourth share, and H2O Retailing has the fifth share of this market.
Isetan Mitsukoshi Holdings' sales in 2017 is about 1.2 trillion yen. It has the three flagship shops, Isetan Shinjuku store, Nihombashi Mitsukoshi and Mitsukoshi Ginza. It is doing five business developments, department store, credit card, finace, real-estate and others. Mitskoshi is popular for wealty people, Isetan is popular for young people.
J.FRONT RETAILING's sales in 2017 is 1.1 trillion yen. Its flagship shops are Daimaru Tokyo, Daimaru Kobe, Daimaru Shinsaibashi, Matsuzakaya Nagoya and Ginza Six(Ginza Matsuzakaya). Daimaru celebrated 300th anniversary of the shop opening in 2017. J.FRONT RETAILING introduced Alipay which is mobile online payment platform in its flagship shops for Chinese tourists.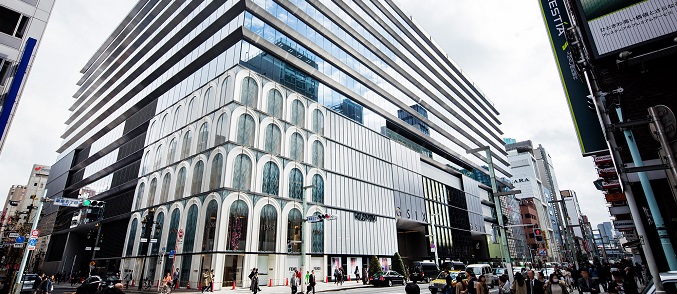 Takashimaya whose sales in 2017 is 950 billion yen based at Osaka city. It was founded by Shinpachi Iida in 1831. He expanded it from Kyoto city to Osaka city and Tokyo city. Nowadays, it has 19 shops in Japan and three shops in the overseas. Its flagship shops in Japan are Nihombashi Takashimaya, Shinjyuku Takashimaya and Osaka Takashimaya. Its overseas flagship shop is Takashimaya Vietnam in Ho Chi Minh City. This shop contributes to increase its profit.
By the way, expanding overseas is a key for department store to increase its sales and profit because Japanese retail market will shrink. However, Japanese department stores already failed in overseas business in 1990s. The reason is tenants rent fluctuates intensely and the number of Japanese tourist decreased. It is said that Japanese department stores expanded overseas for Japanese tourist then. In addition, there was Asian Financial Crisis in 1997.
However, they are expanding overseas again with having learned from early failures. Isetan Mitsukoshi Holdings expand its business to the Phillippines with Nomura Real Estate Development Co. and Federal Land Inc. They will open composite facility in Bonifacio Global City until 2020. Takashimaya expanded Bangkok of Thailand in 2017, and opened SIAM Takashimaya at ICONSIAM.
Isetan Mitsukoshi Holdings(TYO:3099), Takashimaya, Millenium Retailing(TYO:8233), J.FRONT RETAILING(TYO:3086) and H2O Retailing(TYO:8242) are listed on the Tokyo Stock Exchange. Foreign investors can invest these companies through many ETFs, iShares MSCI Japan ETF(EWJ), Wisdomtree Japan Hedged ETF(DXJ) and more. Many Japanese companies increase their sales and profit with weak yen. If investors want to hedge an impact of fluctuations in foregn exchange rates, they should invest currency hedged ETFs, Deutsche X-trackers MSCI Japan Currency-Hedged Equity Fund(DBJP) and iShares Currency Hedged MSCI Japan ETF(HEWJ).