gathering chestnuts Kurihiroi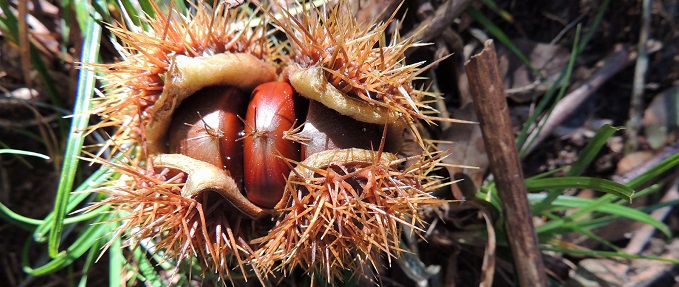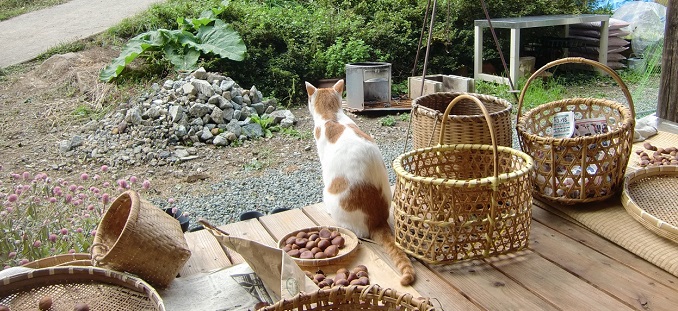 Gathering chestnuts in Autumn!
Many Japanese enjoy not only grape picking and viewing colouring of autumn leaves but also gathering chestnuts in autumn. Gathering chestnuts is a common feature of autumn too.
People live in the country go own mountain and enjoy gathering chestnuts for free, but people live in city go a farm and enjoy it with paying fee. In this case, visitors pay admission or pay fee by weight of chestnuts without paying admission.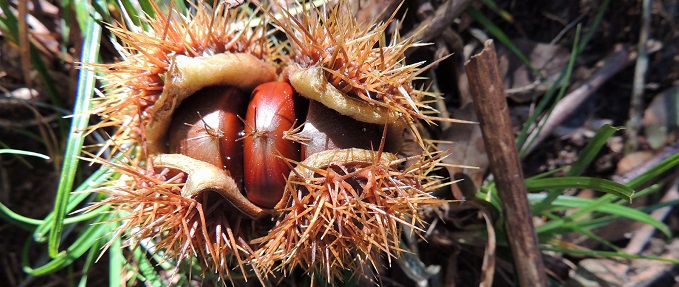 The history of Japanse and chestnuts is very long, chestnuts are staple food for Japanese in Jomon period(14,000-300BCE). Japanse cultivated them in Jomon period because of fossil remains from Sannai-Maruyama site in Aomori region. In addition, there are many folktales about chestnuts. Chestnut plays a major role in the folktale "Crab and the Monkey".
Nowadays, Japanese make dishes that use them, Kuri-gohan, Kuri-kinton, Kuri-kanroni and more. Kuri-gohan which is most poplar dish of chestnuts in Japan is a rice and chestnuts seasoned with dashi, soysauce and salt. Kuri-kinton which is eaten in nwe Year's day is made from mashed sweet potatoes and chestnuts. Kuri-kanroni is made from sweetened and boiled chestnuts with sugar, soy sauce and sweet sake.
Three main brand of chestnuts are made in Japan, Ginyose, Tanzawa and Tsukuba. Ginyose is puffy and bigger than other chestnuts. It has a sweet taste, and is often used for Japanese-style confectionery, marrons glaces and cakes like Mont Blanc.
Tanzawa which is stripe has sharp feature and simple flavor and tastes. It is often used for Kuri-gohan and Kuri-kanroni. Tsukuba which is most popular chestnuts has a spicy sweet taste. Its rind is loose and easily removed, and is used for anything.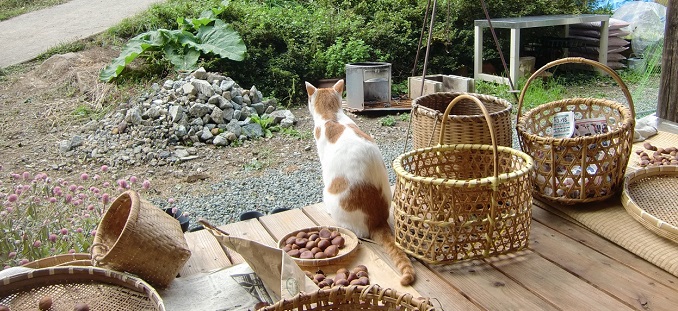 The best season of gathering chestnuts is from the middle of September to the middle of October. There are many farms for gathering chestnuts, one of them is Shimada Farm in Tokyo. Its admission. is free, but fee for taking away is 900yen(about 9dollars) per kilogram. It takes 20 minutes by train from Shinjuku station to Chitose Funabashi station which is near this farm. You should have shoes for prickle, gloves and anti bug spray when you go for gathering chestnuts.
If you travel Japan in September of October, you can enjoy chestnuts gathering and dishes and can experience Japanese culture through it.