Kishiwada Danjiri Festival
Kishiwada Danjiri Festival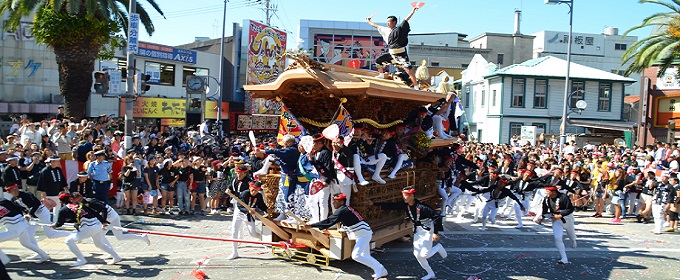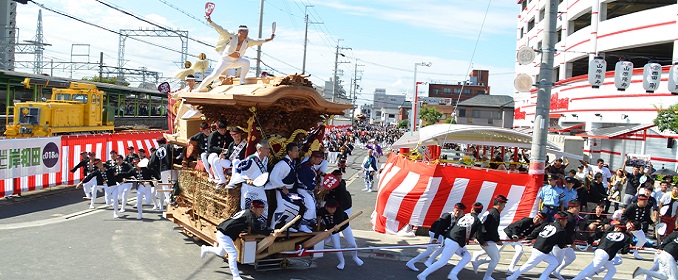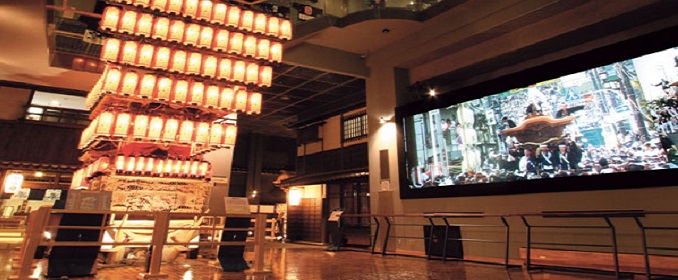 Kishiwada Danjiri Festival in September!
Kishiwada Danjiri Festival is held in every September in Kishiwada city of Osaka prefecture. This festival has over 300 years history, and is well known as brawl festival because festival cars and portable shirines run roughly in this festival.
They hit and break houses along the street sometimes, these houses are insured against Danjiri festival. About 500,000 people watch and enjoy this festival.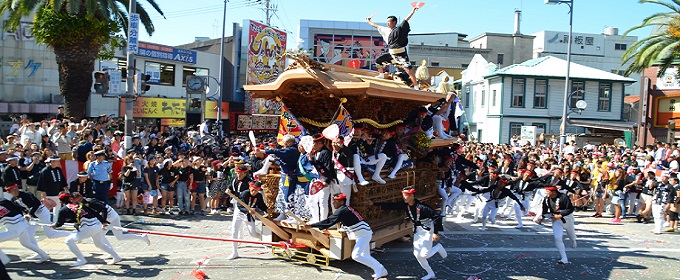 Danjiri which is also called Dashi is a decorative portable shrine about 13 feet tall. It made by a Japanese tree of the genus Zelkova and is intricately carved. The main part of each danjiri depicts various historical famous scenes, Genpei War, Chushingura and more. Participants of this festival from twenty two town in Kishiwada city carry Danjiri along a certain course with being proud of their own Danjiri.
The climax of this festival is "Yarimawashi" at the intersection. It is that carriers of Danjiri turn there angles quickly without changing the carrying speed. It is also a joint action in which all members participate in carrying together. Some pull the rope of Danjiri, some support turning at back of it, some plunge a rod into wheel of it, and some called Daikugata instruct all members to adjust timing of turning with riding top of Danjiri.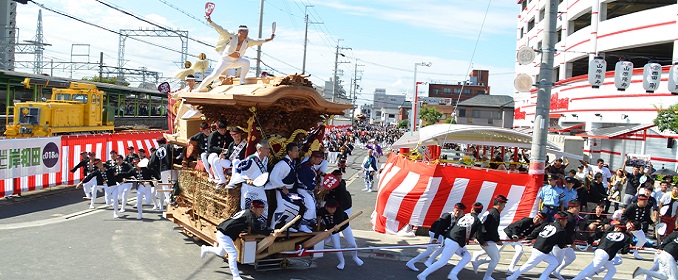 Many people see this festival at the street for free, but some people see it on the reservation seats. Reservation seats are from 2000yen to 7000yen(from 20dollars to 70dollars), and tickets of them are sold by convenience stroes and ticket website from the middle of July. There is a tour including hotel and reservation seats.
On the other hand, some people see this festival on TV to avoid crowds. TV Osaka brodcasts TV program about this festival and participants every year.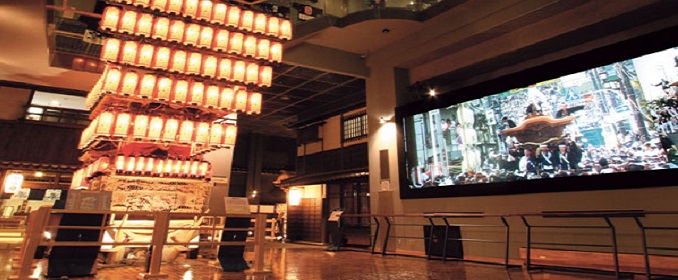 By the way, there is the museum specializing in this festival near the Kishiwada castle. This museum named Kishiwada Danjiri Kaikan exhibits not only documentaly records but also movie of this festival in the past. Especially, "3D Danjiri vision" surprises visitors of this museum. Visitors experience Yarimawashi and riding Danjiri with 3D glasses.
If you travel Japan in September, you can enjoy this festival and can experience Japanese culture through it. Note that the date of this festival change every year because it is held in the day before holiday named Keiro-no-Hi (Respect for the Aged Day). Though this holiday is often the thrid of Saturday or Sunday of Septenmber, but you should confirm the date before traveling.