How to buy Sumo tickets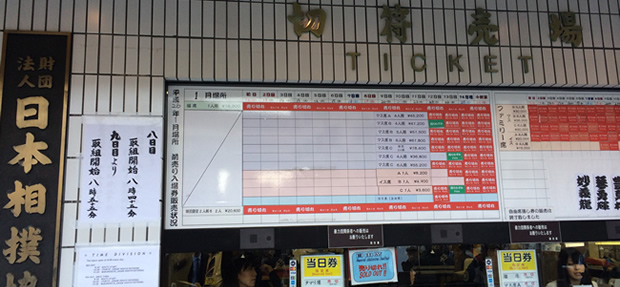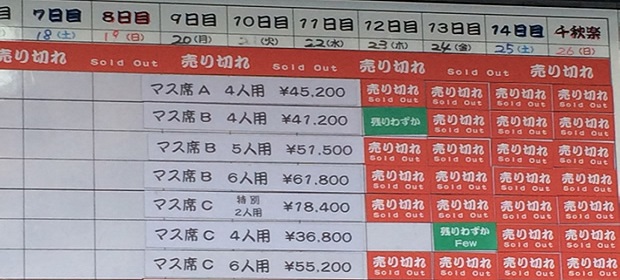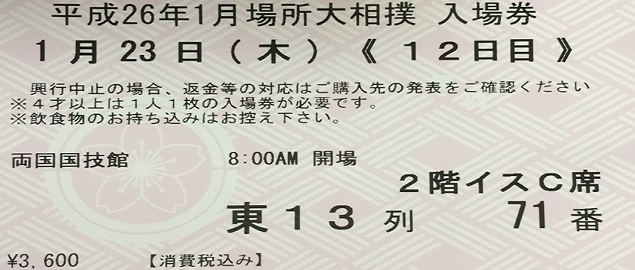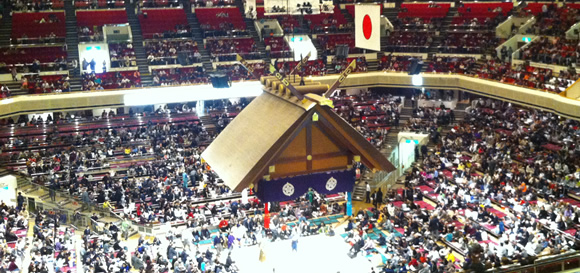 Perfect guide of how to buy Sumo tickets!
Fifteen day Sumo tournament for deciding grand champion Yokozuna is held at Ryogokoku Kokugikan in Tokyo three times a year(January, May and September). Other tournaments are held in other cities: the tournament in March is held in Osaka, it in July is held in Nogoya, it in November is Hakata. In any case, you'll buy Sumo ticket by any one of the five methods.
Ticket office near the entrance
Travel agency
Web site or Telephone
Sumo information offices called Sumo-jaya or Sumo annai-jo
Friend or acquaintance
Unless you want to watch Senshuraku the final day of fifiteen-day tournament or on weekend contains a national holiday, you can buy cheap tickets easily. An Nonreserved seat called Ji-yu-seki is sold for 2,100yen (about 21 dollars). You should go there in the morning in order to get this ticket. If you can't get this ticket, you can buy an upstairs seat called Isuseki for 3,600yen (about 36 dollars). You should go there to get it until 1:00pm or 2:00pm.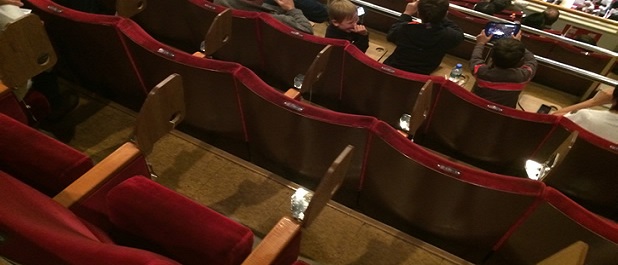 If you watch Sumo on the Senshuraku or weekend because of your itinerary, you may ask travel agency for tickets. They'll probably reserve upstairs seats cost from 3,600yen to 8,200yen or box seats called Masu-seki cost from about 10,000yen to 36,000yen. Of course, you can reserve these seats and buy tickets if you don't mind labor. One of the web sites in English you can buy them is Ticket Oosumo operated by Ticket Pia Co.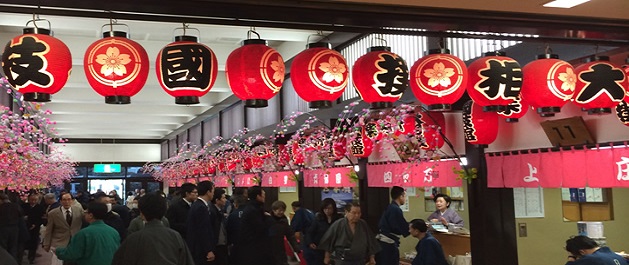 If you watch Sumo at Tamari-seki called Suna-kaburi which is nearest seats to Sumo ring (Dohyo) or at the best seats of Masu-seki, you should buy tickets from Sumo information offices called Sumo-jaya or Sumo annai-jo because they monopolize almost all the best Masu-seki and most of Tamari-seki. They in Ryogoku Kokugikan have the privilege of solding these tickets and sold them for more than twice price with lunch box and some souvenirs. They don't rip its customers off because customers enter the exclusive gate and the clark called Dekata attend them their seats.
In addition, customers can ask the clark for buying anything sold in Kokugikan. If you ask him for buying something, you can get popular goods without forming a line and missing a big match. Note you should give him a tip when you ask him though tipping is unnecessary all over Japan. Then, giving the money(more than 3,000 yen) in an envelope is better than giving naked cash. Some of souvenirs you get from them are original goods don't sell in other shops contains shops in Kokugikan.
Finally, you can get tickets from your friends or acquaintances. Maybe they win a prize or don't go because of thier itinerary. You would get them absolutely if you heard they got them from sponsors of Sumo wrestler or their stables. Because sponsors of Sumo wrestler or their stables have the tickets and reserve seats Sumo-jaya never get. You were so lucky if you got these tickets.
Sumo's rule is so simple(Sumo wrestler wins when he knocks the other guy off his feet off or out of the ring) that you can enjoy it for the first time in your life. You'll also surprised at sounds of bumping their bodies. You enjoy throwing a floor cusion when an upset occur. If you can't go for watching Sumo because of your itinerary, you can watch Sumo on NHK TV Channel 1 broadcasting from 3:12pm or 3:55pm to 6:00pm during tournament.