Market share of bank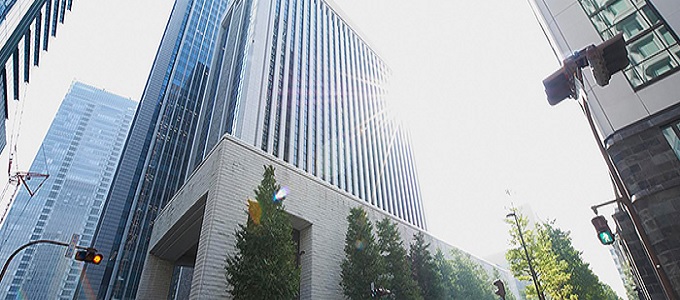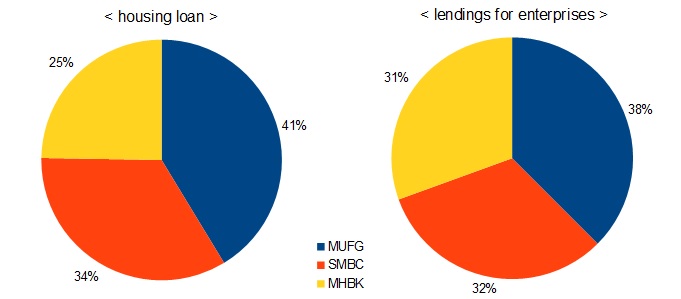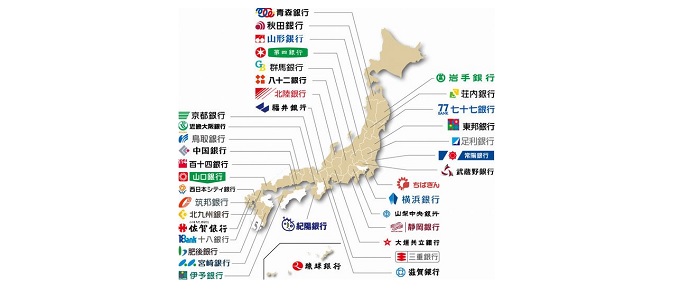 Mega-Banks occupy Japanese bank market!
Deposits and loans increase, but profits of banks decrease by negative intereset rates.
The three banks occupy Japanese bank market.
To eran in overseas is a double-edged sword.
The total deposits of the all banks in Japan is about 680 trillion yen(about 6.8 trillion dollars) according to the report of Japanese Bankers Association in 2016. The total lendings of them is about 470 trillion yen. They increase a few percent from the previous year. However, their profits decrease year by year because of negative interest rates by BOJ(Bank of Japan).
The three banks account for 50% of lendings in Japan, MUFG Bank Ltd(Mitsubishi UFJ Financial Group), SMBC Co.(Sumitomo Mitsui Banking Corporation) and MHBK(Mizuho Bank Ltd.). These banks called "Mega-bank" in Japan, Japan Post bank and Resona Holdings are not included Mega-bank. MUFG Bank has the largest assets and lendings among Mega-banks. It also has the top share of housing loan and lendings for small‐to‐medium‐sized enterprises.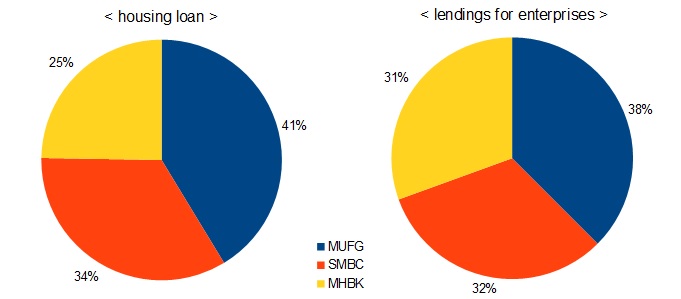 There are about 190 banks in Japan except Mega-bank though some of them were merged according to the report of the Financial Services Agency. These banks are divided into three classes, Toshi-ginko, Chiho-ginko and Shinyou-kinko. Toshi-ginko which means a city bank in English has branch offices in major cities. In general, MUFG, SMBC, MHBK and Resona belong Toshi-ginko.
Chiho-ginko which means a regional bank in English is a community based bank. There are about 100 Chiho-ginkos all over Japan. Some of them has a larger share of deposits and lendings than Mega-bank only in a particular area. The big three Chiho-ginko are Bank of Yokohama, Chiba Bank and Shizuoka Bank.
Shiyo-kinko is cooperative regional financial institutions serving small and medium enterprises and local residents. Banks must make a prifit because they are stock companies, but Shinyo-kinko do not have to make a profit because it is a nonprofit organization. Therefore, it is said that they are not tight with their money.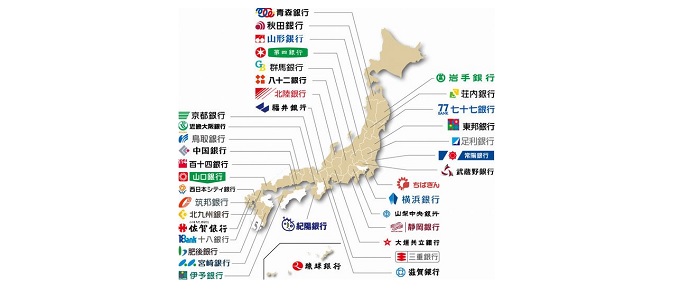 By the way, Mega-bank is proactive in expanding overseas through M&A to increase earnigns. That began from MUFG invested in stock of Morgan Stanley in 2008. SMBC invested in stock of BTPN(Bank Tabungan Pensiunan Nasional) of Indonesia in 2013. MHBK bought loans(Commitment Line) of North American enterprises from the Royal Bank of Scotland in 2015. However, SMBC suffered 50 billion yen losses as a result of the collapse in share prices of BTPN in 2015. To eran in overseas is a double-edged sword now.
MUFG, SMBC and MHBK are listed on the Tokyo Stock Exchange. Foreign investors can invest in them on NYSE by ADR(American Depositary Receipt). In addition, they can do them through many ETFs, MAXIS Nikkei 225 ETF(NKY), iShares MSCI Japan ETF(EWJ), Wisdomtree Japan Hedged ETF(DXJ) and more.