Yosakoi Festival in Kochi
Yosakoi Festival in Kochi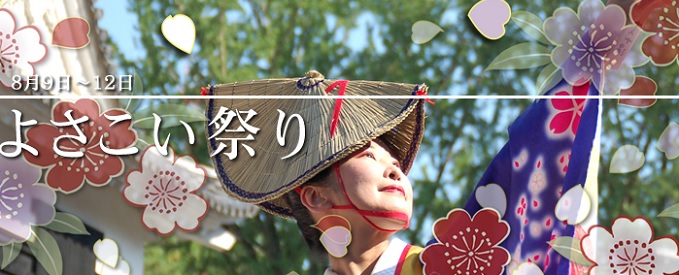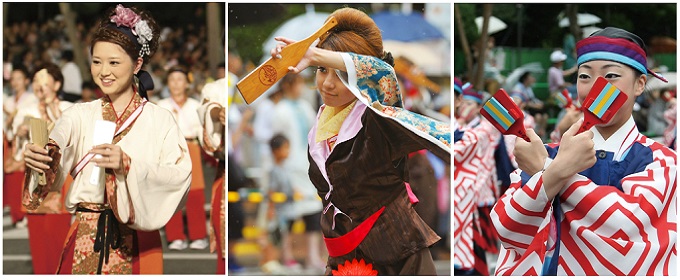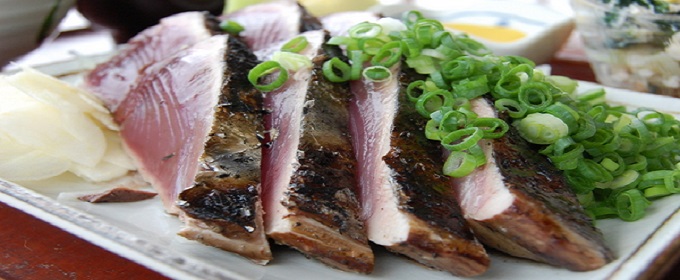 Go Kochi and Enjoy Yosakoi Festival!
There are many Yosakoi Festivals in Japan, but Yosakoi Festival in Kochi city is most famous and the origin of Yosakoi. Yosakoi is Japanese dance style, and is a form of festival. Yosakoi Festival in Kochi is held for four days from August 9th to 12th every year. Kochi Fireworks Festival is held as a pre-event of it on August 9th.
Chamber of Commerce and Industry in Kochi held this festival to recover economic and pray for a prosperity and good health of citizen in 1954. The 30th fesitival had over 10,000 dancers with wearing flashy clothes in 1983. They danced to a tune, samba, rock, classic and more. Nowadays, Yosakoi Festival in Kochi has 18,000 dancers divided some teams and one million visitors for four days. Kochi city is full of atmosphere of this festival.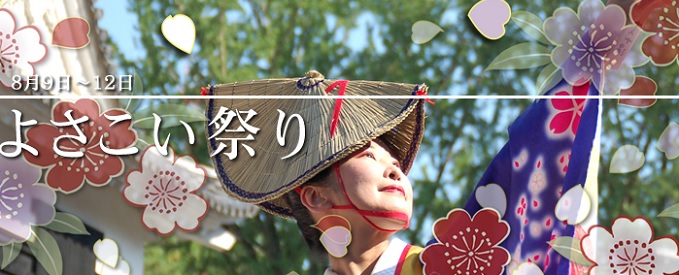 There are three points of enjoying this festival, cloths, dances and festival cars. Dancers' cloths are different from each groups. They are not only gorgeous but also designed to be beautiful for a group. Dancers can wear anything but don't have Naruko(musical instrument). It made from wood is a traditional bird repelling tool.
It is a wonderful dance performance with all dancers of each groups in perfect sync. Their performance are as good as proffessional, and attracted visitors. They can any dance with any music, but they must dance with using Naruko and playing music including a verse of Yosakoi Naruto Odori. Yosakoi Naruto Odori has played since the first festival was held. Therefore, all dance music of this festival are a familiar music for people if a music is arranged.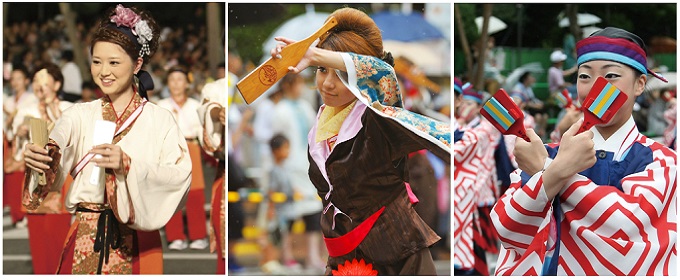 Each festival car lead a parade of dancers with plyaing music. It is decorated and has various device like blowing bubbles and more for delighting visitors' eyes since it is a symbol of each dance group. Festival cars attract visitors"s attention.
In addition, fireworks in pre-event of this festival also attract visitors. A big firework called Niagara has a total length of 650 meters(about 700yards). There are many stalls called Yatai along the streets, Kochi's speciality is a lightly roasted bonito called Katsuo-no-tataki.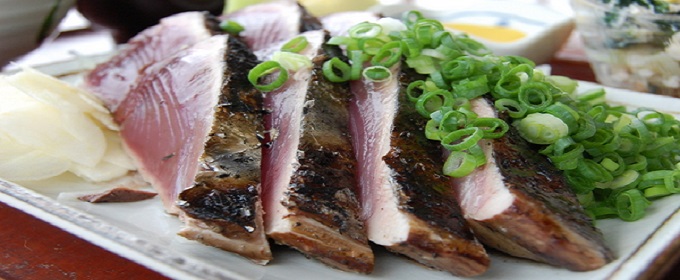 It takes three or four hours by airplane and train from Tokyo to Kochi city, and costs about 30,000yen(about 300dollars). If you travel Japan in August, you can enjoy Kochi Yosakoi festival, and experience Japanese culture through it.