Japanese school event "Undokai"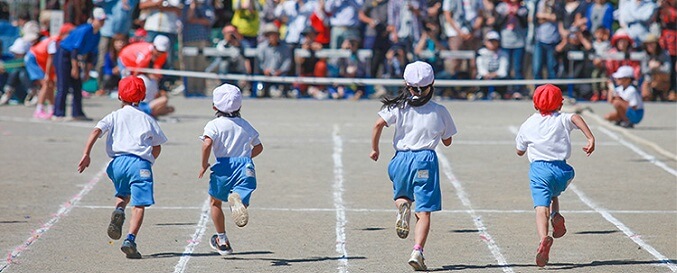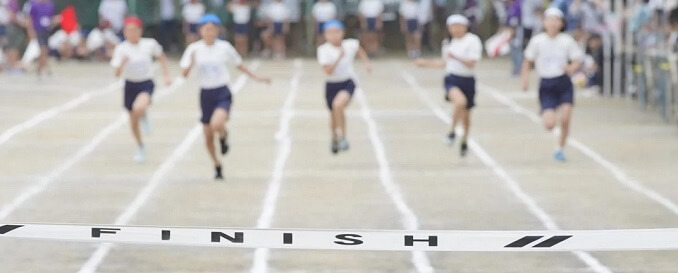 What game do students do in Undokai?
Undokai is a sports day (athletic meeting) for students in Japan. It is also called Taiku-sai or Taiku-taikai in high school. Speaking of Undokai, it was one of the seasonal charms of autumn. Many schools hold Undokai not in autumn but spring because of avoiding heat stroke and typhoon now. About 66% of schools in Tokyo and major cities hold it in spring (May or June) according to the report of NHK (Nippon Hoso Kyokai or Japan Broadcasting Corporation). Undokai is becoming the first event after moving up a grade instead of Ensoku.
In general, students are divided into two teams red or white, and play a team competition in Undokai. Students in some schools are divided into three team, red, white, and green or blue. All of them wear sports-wear called Taisogi and sneakers called Undogutsu which are designated by school. The difference of them is only team color cap.
The major individual games of Undokai are sprint (50m, 100m, 200m), long-distance running (800m, 1500m, 3000m), hurdling and obstacle racing. Long-distance running and hurdling are often played in junior high school or high school.
Instead of them, students of elementary school play more obstacle racings like bread sprint race. Students run and need to take a bread hung on a bar without hands in this race. This race called Pan-kui-kyoso in Japan is very popular, and well known as a race the fastest student may not win. It is said the first bread sprint race was held by Naval Academy of Japan in 1874 or by Sapporo school in 1896. There are many obstacles race in Undokai, Scavenger hunt, three-legs race and more.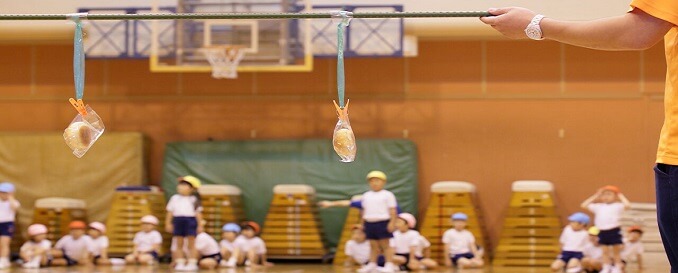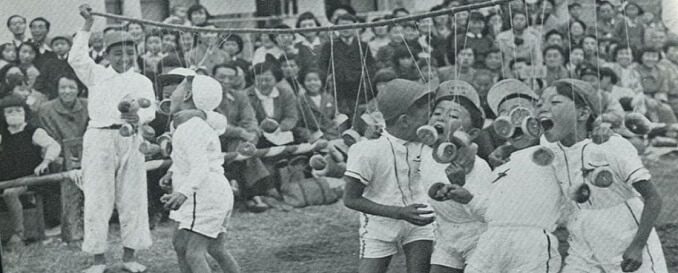 The major team games of Undokai are chicken fighting (kibasen), Tug of war (rope war), Skipping long rope, sprint relay, bucket relay, Gymnastic formation and more. Especially, Bo-taoshi is Japanese traditional games of Undokai. It is like a capture the flag game, but this game is different from flag game in rules and the number of participants. Each team is split into two groups of attackers and defenders fifty-fifty. Attackers try to tilt a pole lower than 30 degrees, or try to steal a flag on the top of the pole. Defenders try to pretend that of attackers.The team win when attackers succeed to that during own defenders protect their pole and flag.
Bo-taoshi is well known for it of National Defense Academy of Japan. The participants plan tactics and gather information about an opponent like military training. The military unit won the championship gets the championship flag and cup used from 1954. Bo-taoshi is so popular that it made into a movie.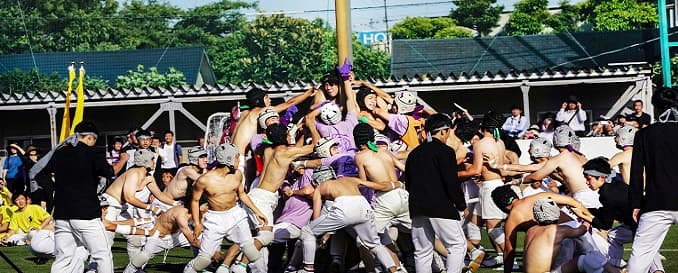 By the way, there are many typical music on Undokai. Though modern songs are also play, some classic songs are known for Undokai songs. The overture galop section of "Orpheus in the Underworld (Orpheus in Hell) Act3" and "The Comedians (Kabalevsky)" are very popular as sprint song on Undokai among all generations. "Bugler's Holiday" of Leroy Anderson and "Sabre Dance" of Aram Khachaturian are also very popular as team games on Undokai.
If you hear these songs on the road in Japan, a school around you may holds Undokai.