Cock fair called Tori-no-ichi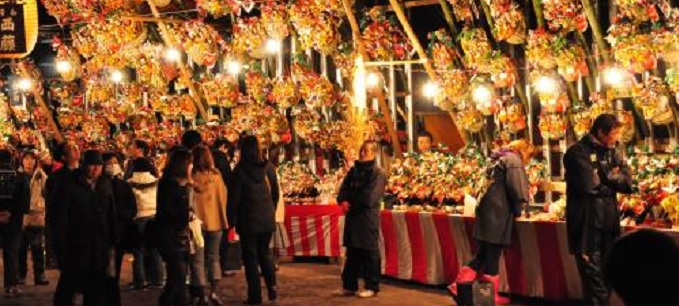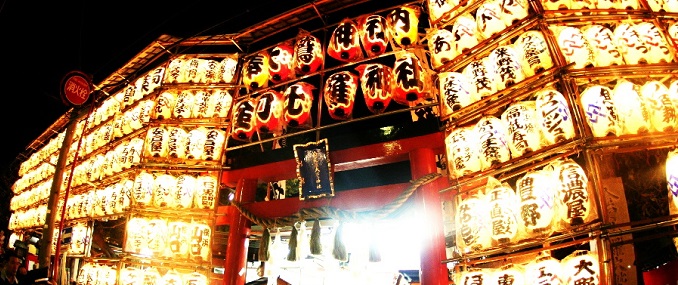 Feel the end of the year in Cock Fair!
Tori-no-ichi(Cock Fair) is a festival of Japan and open-air market on the cock day of November. It is well known as a annual event of shrines named after birds in Tokyo. There are two or three cock days in November according to the year. It is said that fires are frequent in the year which has three cock days. Many Japanese buy a bamboo rake in this fair, and feel close to the end of the year.
The origin of this cock fair is farmers dedicated cocks to Otori-jinjya shrine with wishing huge farvest in Edo period. Cocks were carried to the Sensoji and released like the turkey pardon after that. Some years later, this fair became a festival for thriving business, and became poplar as the first festival of the end of the year.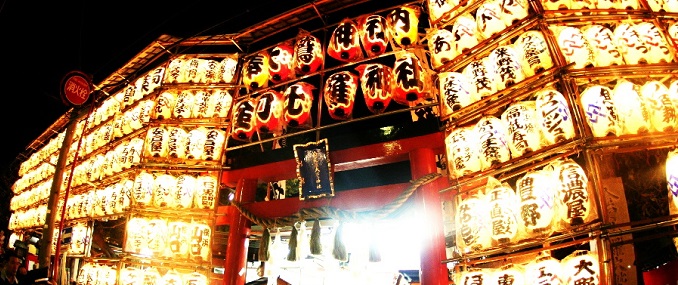 A bamboo rake which is sold in this fair is famous as a lucky item for thriving business because it gathers wealth and treasure. It is said that people buy new one which is a quite a size larger than last one every year for better luck. In addition, it is a common custom that people bargain with a sales clerk about the price when they buy it. However, just bargaing the price is too bad, there is a smart rule of bargining.
How to buy a rake:
First of all, a custmer ask a sales clerk how much it is. A customer beat the price down several times, and say "Buy it" at the right moment. It is unsophisticated to buy it for bargain price, so pay the first price and say "Keep the change for gratuity". A sales clerk clap the hands to celebrate a successful of business with audience's ceremonial hand-crapping after shopping.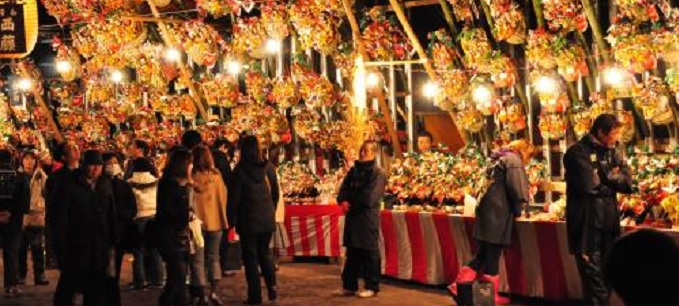 This rule has benefits for the customer, vendor and galley, and make them happy. A customer feel like a rich man, a vendor feel like making big profit, audiences find and see a great deal. A customer takes a rake home with holding it on high like it gathers big happiness. It is placed near a door or on a Kamidana which is a household Shinto altar.
Many shrines in Kanto region are held this fair, about thirty shrines are held it in Tokyo including Otori-jinjya shrine(mentioned above). There are three major Tori-no-ichi in Tokyo, Otori-jinjya shrine, Hanazono-jinjya shrine and Okunitama-jinjya shrine. Hanazono-jinjya shrine is in Shinjyuku ward, and is famous for praying for successful ventures.
If you travel Tokyo in November, it might to be a good idea to go Tori-no-ichi and experience Japanese culture through it.